Whether you want to update your cabinets, lighting, tiling, or countertops or plan a total bathroom makeover, we are here to help. Our FREE in-home design consultation will help you pick the right colors, materials and design you want to make your bathroom an escape.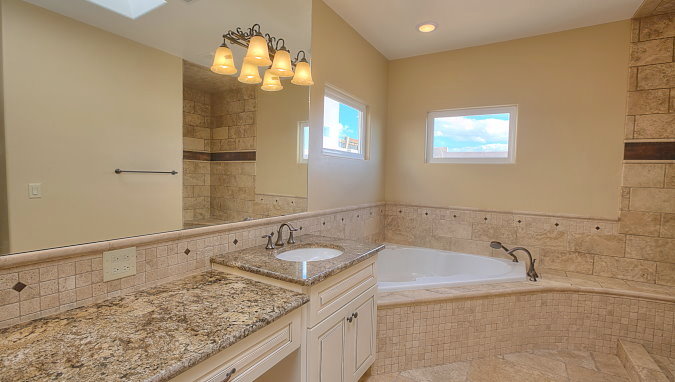 How – by personalizing your bathroom!
By listening to you, we can make sure your new bathroom is customized the way you like it. From accent mirrors and hardware to color choices meant to ease you into or out of your day, we can give your bathroom that individual look and functionality you have always wanted.
You can keep it simple with a classic look, or maybe add a dash of chrome and clean lines to create a more modern look. Or maybe you are looking for a more Spa-like feel with an open layout. Whatever you want, we are here to make sure your dreams become a reality.
We can help you:
Create a unique plan for each bathroom that addresses specific needs for each room
Being a design expert, I can help you get the most out of even the smallest bathrooms
Help you decide where you may want to scale back or over-invest on your bathroom
Build you a beautiful new bathroom while including energy saving design that is eco-friendly and saves you money
Design is about details, I will be there for you to offer décor suggestions hardware, paint window covering, lighting
You should also know that there are financial reasons to remodel your bathroom too!
Whether you're updating an out-of-date bathroom or thinking about selling your home, remodeling your bathroom is a great way to add elegance and value to your home. Not only that, but many times our clients are able to recover 100% of the remodeling costs when they sell their homes.
You see, the bathrooms in your home can be the determining factor as to whether or not your home sells. And because bathroom remodeling can be expensive, many buyers generally are looking for bathrooms that already meet their expectations.
So, to get a few ideas on a fresh look for your bathrooms, call us at 505-991-0063 or email us through the site now by clicking here.